This is FaxTV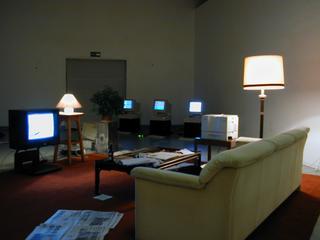 FaxTV ... Gallery
As part of the )toon) Festival in Haarlem, NL March 2002 Redundant Technology Initiative built their installation Fax TV in the Nieuwe Vide exhibition space. Fax TV does exactly what its name implies: it enables viewers to fax the TV!
The project emerged from a simple question: how could RTI get creative with 28.8k modems? These old modems run at half the speed of modern modems, so if you're charged by the minute for dialup phone access, then it's actually cheaper to buy a new modem than use an old one. So what could we do with this redundant technology? Then we realised: we could receive faxes with them. Faxes run at a maximum speed of 19.6k - so a 28.8k modem is well up to the job!
The original and exciting concept is to show how an automated Fax to TV bridge can transform the "one-to-many" televisual medium into an open access, "many-to-many" communication channel. It's easy to assume that there's something inherent about television that means it has to be the sort of medium via which a few powerful broadcasters communicate to many passive watchers. FaxTV proves that that's not the case!
FaxTV employs three redundant computers installed with the Linux operating system, an external 28.8k modem, and a host of free, open source applications. The output of the "display" machine was converted into a TV signal with a simple digital-to-analog converter box, which was the most expensive element in the whole system. The total budget for technology was less than £100.
The installation ran 24 hours per day, and this website gave information about how to fax RTI while they sat on a sofa in the "living room" that they create in the exhibition space. Faxes could be received from anywhere, but RTI installed a fax right next to their sofa, so anyone could change the TV picture while viewing it!
Here you can see pictures of FaxTV's development, transport and the exhibition itself. James also gave a presentation at the Teylers Museum - the oldest museum in the world, and you can see some pictures of their very impressive lecture hall.
Here you can see many of the faxes that came into the gallery during the show. The installation itself was programmed in the way you'll see it here on the web - the picture changed every few seconds. As each fax was received, the TV showed it immediately, but if the fax line was quiet, the installation would browse randomly through its store of recieved pictures. To see more, just wait - or click through each fax. Happy viewing!
Now, following this live test, Redundant Technology Initiative are searching for forward-thinking broadcasters who want to convert their passive TV viewers into active TV producers! We have the technology to make live fax to TV streaming a reality... but do you dare to make it real?
---
Major thanks are due to The Arts Council of England New Media Projects Fund who sponsored the development of this project. Also the )toon) Festival who gave us the opportunity to show the finished result. Thanks also to Nieuwe Vide, who organised the festival, provided the exhibition space, gave us many hours of technical help and advice, produced and distributed publicity and provided wonderful food and hospitality. THANKS! For this project the RTI crew consisted Ian "Gumby" Vickerman, (scripting and OS tuning, installation) Jim Methley (Perl and Bash scripting, ZGV wrangling), James Wallbank (concept & research, Bash scripting, ImageMagick wrangling, installation) Tony Goddard (bug fixing, installation, testing, CURL wrangling).